The National Co-op Directory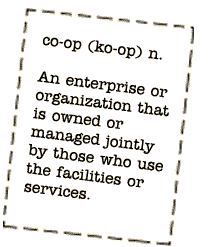 The only hard copy listing available focused on only Co-op Natural Food Stores/Supermarkets in the United States.
Most dependable directory – kept up to date by annual contact with the individual stores.
State and National Maps as well as directions are provided to help travelers plan trips or find co-op stores along your route.
Free copies of the directory were sent to the manager of each co-op to promote networking amongst co-ops and with co-op companies.
The Yearbook Section is a fun way for co-ops to share their experiences with other co-ops.
The directory is a convenient listing you can keep with you when you travel or in your desk drawer for easy networking. Updates throughout the year will be listed on this web site.
— Established 1992 —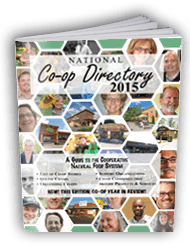 Now in it's 26th year of publication, the National Co-op Directory contains up-to-date listings of co-op natural food organizations and listings of co-op companies and support organizations that supply the co-op stores with products and services.
In 2016 we added the "Yearbook Section".  In their own words and many pictures, Co-ops share their ideas, values and experiences of the last year and more. This section is free to co-ops.  Send an email to sign up for the 2018 directory.
Originally the directory only listed natural food co-ops with storefronts but now, to promote better communication between co-ops, the directory also contains listings of online co-ops, co-ops that are organizing and co-ops that use temporary spaces like a Farmer's Market.
Free copies of the directory are sent each year to the manager of every co-op in our listing.  2017 copies are available to purchase at some co-ops or you can order a copy by clicking here.
Contact us if you have a co-op to list.