The National Co-op Directory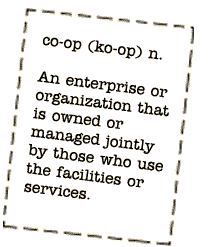 — Established 1992 —
The National Co-op Directory contains up-to-date listings of co-op natural food organizations.
We are not publishing the National Co-op Directory as a printed publication in 2018.  Instead we are putting a condensed listing of all the co-ops in The Co-op Spirit  magazine and putting a full listing on this website which will be ready in the spring.
It will still be the most dependable directory of co-ops, kept up to date by annual contact with the individual stores.
Originally the directory only listed natural food co-ops with storefronts but now, to promote better communication between co-ops, the directory also contains listings of online co-ops, co-ops that are organizing and co-ops that use temporary spaces like a Farmer's Market.
Contact us if you have a co-op to list.